Nov 2018
RBL REI - The new SICA ATLANTIQUE's GRAINODUC - France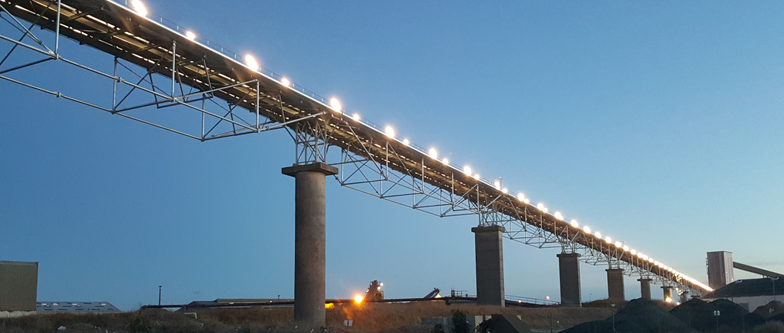 The Sica Atlantique Group, the leading operator of the port of La Rochelle-Pallice-France, exports more than 3,000,000 t of cereals a year.

An increase in loading rates is a main attraction of a port silo, insofar as it makes it possible to reduce the duration of calls and potential demurrage costs. To improve competitiveness, SICA Atlantique Group has decided to modernise its handling facilities.


Built in the mid-1970s, the metal "tube" linking the SICA Atlantic silos to the Lombard wharf has become an iconic element of La Pallice harbour. This element, with a diameter of 3 metres, is equipped with a long conveyor belt (700 m), which can be used to feed ship loading gantry cranes at a nominal rate of 1000 tons/hour.
For safety reasons and in order to secure and double the lines, permitting both a doubling of loading rates and continuous loading in the event of a default in one of the two conveyors, Sica Atlantique Group has decided to replace its "GRAINODUC".


With this in mind, the Sica Atlantique Group has approached RBL-REI.


A global bulk handling company, RBL-REI is a leading partner in the port, cereals and mining industries among others.
With its main headquarters located in Paris and Angers (Loire Valley area), RBL-REI has several facilities in France and oversees.
It is widely represented throughout the world with commercial agencies allowing it to consider large scale projects.


The Sica Atlantique Group handed RBL-REI "carte blanche" for the design of the new "GRAINODUC", with the following specifications:
- Install two conveyors (1500t / h, 1000t / h) in place of the current conveyor,
- Completely elevated conveyor culminating in a height of up to 22m, whilst maintaining the current clearance under the conveyor,
- No or little civil engineering; the two conveyors had to be fitted on the existing concrete pile without additional loads.
- Shutdown time for removal of the old conveyor belt and restarting one of the two lines will be a maximum of 8 weeks.


RBL-REI took up the challenge and proposed a double conveyor equipped with a structure in PRS structure (welded steel sections) with a subtended arc, in sections of up to 50m.
As a result the two new lines weigh only 700 kg/m compared to the 1000 kg/m that the previous tube conveyor weighed.
To preserve the existing road templates metal trestles have been erected above the concrete supports to compensate the additional height (about 4m)
In order to limit wind loads on its structure, RBL-REI installed deflectors at the welded structural core as well as a lowered cover, giving an aircraft wing profile to the conveyors.
Last but not least, from the shutdown time from removal of the original conveyor to the restarting of one of the two new ones could not exceed 8 weeks.
To meet this deadline, and in order not to disturb the operation of the harbour, RBL-REI performed a trial assembly of all the sections on the ground in a dedicated area.
The sections are then sent to their place of assembly thanks to motorised, radio-controlled carriages. Lifting is performed by mobile cranes (up to 450t). The result is that the entire conveyor is assembled in less than 4 weeks. 4 weeks later ship loading recommences.
The second line will start 1 month later.
With the modernisation of this equipment, the Sica Atlantique Group can load ships up to 2,500 t/h or load two types of cereals simultaneously.

About SICA ATLANTIQUE
Since then we always have nurtured our commitment to the regional agricultural sector; our shareholders and board members are all local grain market actors.
Our vocation is to design and implement innovative, integrated, global solutions to optimise and massify logistics flows for players in the agricultural and agro-industrial sectors, who represent our core businesses. We are their main port logistic operator. We also develop services for other sectors working towards our strategic objectives.
Since 1992, we have developed and organised our activities into 6 complementary divisions.
We have become the leading port operator in La Rochelle-Pallice.